Giving
Your generosity enables us to take the Gospel to students all over the nation
20/20 Vision
On July 20th, BCF members, well wishers, and supporters will give a one time gift of $20 towards the Proclaim Crusade, an evangelical outreach program to win souls on high school and college campuses.
Time Remaining To Give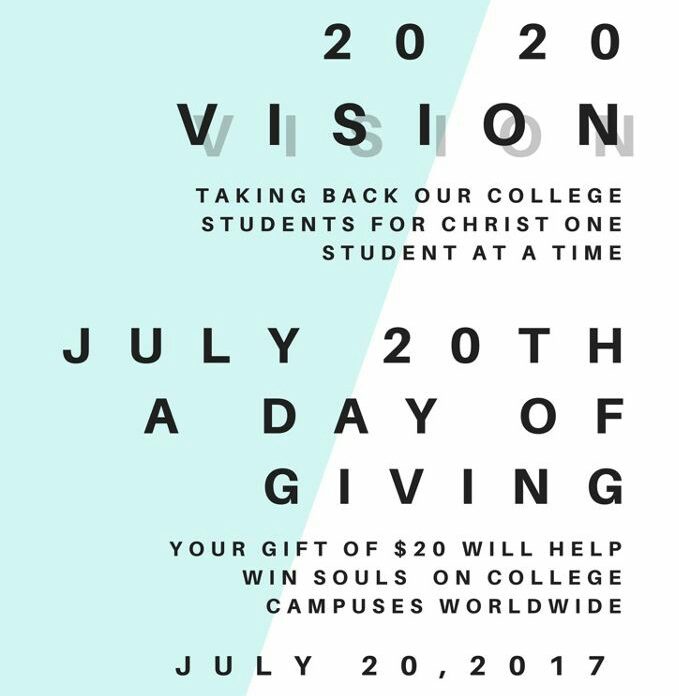 Thank you for partnering with us. Know that your support is reaching College and High School students around the world in need of the gospel. Together, we are going to make a difference in the lives of so many!

Partner with us
Why PARTNER?
It is important for the newly converted youth and young adults
to grow in their walk with Christ beyond the initial step of
receiving salvation.
Bethel Campus Fellowship is not a CHURCH but we Believe that all newly believers
should be connected with a church in which they can receive discipleship
as soon as they receive Christ!
WAYS TO PARTNER!
-Connect your church
Local Churches in this region will partner with BCF to provide a
nurturing environment where the newly converted souls can
grow and mature. We desire to partner with churches that are
not just interested in growing their church, but are more
importantly interested in growing people.
-Large Donation
-Sponsorship